T-shirts and Gifts for Engineering Occupations
This page highlights some of the occupation themed mug and t-shirt designs I have designed.
Gifts for Engineers
View all engineer designs at my Zazzle store.
Please Note:
The following images only show one style of mug. On the Zazzle site, you can select any of several mug styles, including two-tone mugs, steins, travel mugs, and a frosted glass mug. Customizable t-shirts and other products are also available.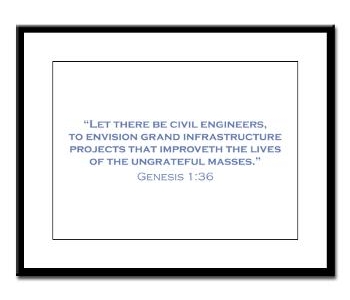 Where do civil engineers come from?
This framed print includes the words "Let there be civil engineers, to envision grand infrastructure projects that improveth the lives of the ungrateful masses. Genesis 1:36".
Looks great hanging on the office wall of a civil engineer with a sense of humor. This design is also available on t-shirts, mugs, and other products.