New Games Added
I've recently added a pair of new browser games, Blackjack and Memory.
Both of these games should work with the touch-screen on mobile devices. Most of my previous games require a mouse as the input device and do not work properly with touch-screens.
NOTE: I'm finding that the games are not loading consistently on some devices. If the games do not open, try refreshing the page.
Blackjack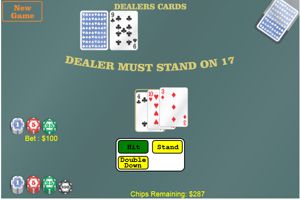 Here is my version of the popular casino game, Blackjack.
Players start by placing a bet. By default, a $5 bet will be placed automatically. Players can increase the bet by clicking on the chips at the lower left. To decrease a bet, click on the chips in the "Bet" area.
To deal the cards, click on the deck of cards in the upper right. Once the cards are dealt, a pop-up window will present players with several play options. Depending on the circumstances, the options can include "Hit", "Stand", "Double Down", or "Split".
Players, if presented with cards of the same rank on the initial deal, may be given the option to split the hand. (If the player lacks sufficient funds to match their current bet, the "split" option will not be presented.
Players can continue to press "Hit" until they bust, or until they press "Stand".
This game does not currently support surrendering or insurance.
Memory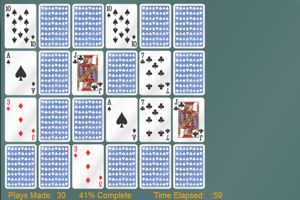 Memory is the type of game where users are presented with an array of face-down playing cards. Players turn the cards over, two at a time, trying to find matching cards. If matching cards are selected, they will remain face up. The goal is to have all cards face up.
The game allows users to choose from three difficulty levels, based on the number of cards involved.
Game stats, such as number of plays made, percent complete, and elapsed time, are included at the bottom of the game. When a game is complete, click anywhere on the game display to open the game menu.
Posted 12 November 2013