New Game Added
I've recently added a new browser game. It's a tile matching game called Tile Match.
When a new game is started, tiles randomly populate the board. Click on any two matching tiles, that are not blocked on either the left or right, and the tiles will be removed. The goal is to remove all tiles from play.
The initial version includes three tile sets, spacecraft, card suits and brushed runes. Each tile set includes 108 tiles, comprised of 27 images, each repeated four times. Four tile layout designs are available.
Features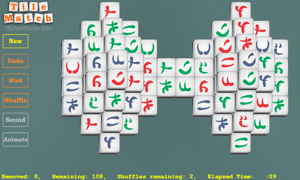 A shuffle button is available if the player reaches a point where no tile matches are available. However, only two shuffles are available for each game.
Selecting the "Hint" button will highlight a pair of matching tiles.
The game uses some basic animations and sound effects. Buttons are available to turn these features off if desired.
Future Upgrades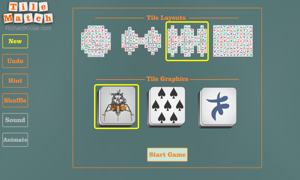 Future upgrades might include a scoring system. A player might earn a point for each pair of tiles matched, with bonus points awarded for matching several tile pairs in quick succession, or for matching two sets of identical tiles in a row. Higher scores would allow the player to earn extra shuffles.
If I do implement a scoring system, I might add additional tile sets and tile layouts.
Posted 19 September 2015