New Game Uploaded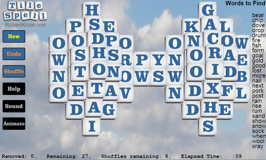 I have uploaded a new game, called Tile Spell, to the webpage.
The game combines features of my previous word search game and tile matching game. Like Mahjong games, the goal is to remove all tiles from the board. Select free tiles, that spell one of the words listed on the right side, and the tiles will be removed. Each game has 27 words to find. The words are randomly selected from a list of 150 words.
Play testers have reported some bugs, but the feedback has been mostly positive. I think this might be my best game so far.
Updated 6 March 2016